Campaña televisiva con ventajismo (Joanny Oviedo)
Palabras clave:
Campaña electoral, reelección, propaganda electoral, Hugo Chávez
Resumen
Análisis del contenido audiovisual de las cuñas electorales televisivas de Hugo Chávez que fueron transmitidas durante la campaña presidencial de 2006, para así conocer la medida en que el aspirante apeló, no sólo a las promesas de alcanzar determinadas metas en un próximo mandato, sino también a los logros de su gestión de Gobierno para atraer votantes, y a su vez, indagar en las estrategias de comunicación política que se utilizaron y las características de los personajes que aparecen en ellas.
Abstract
This is an analysis of the audiovisual content of Hugo Chávez's televised electoral spolts that were broadcasted during 2006 presidential campaign, in order to know how much the candidate appealed, not only to the promises of reaching certain goals in a new period, but also to the achievements of this government to attract voters. It also provides insight into the political communications strategies that were used and an analysis of the main features f the characters that appear in these TV spots.
Résumé:
L'analyse de contenu des spots publicitaires du candidat Hugo Chavez pendant la campagne présidentielle de 2006 a permis d'évaluer les estratégies de communication politiques utilisées et dans quelle mesure, pour capter les voix des électoeurs, le président candidat a eu recours à diverses promesses, mais aussi aux résultats de sa gestion á la tête du gouvernement. Les différents acteurs impliqués dans ces messages audiovisuels sont également analysés.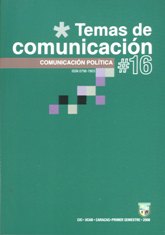 Cómo citar
Oviedo, J. (1). Campaña televisiva con ventajismo (Joanny Oviedo). Temas De Comunicación, (16), 129-157. Recuperado a partir de https://revistasenlinea.saber.ucab.edu.ve/index.php/temas/article/view/340
Sección
Artí­culos - Dossier Central