La documentación digital y el ciberperiodismo(Mabel Calderín y Miladys Rojano)
Mabel Calderín

Miladys Rojano
Palabras clave:
Documentación digital, ciberperiodismo, búsqueda y recuperación de información, Investigación, Recursos de información en línea
Resumen
En este trabajo se analiza el valor de la fuente electrónica, como recurso para la investigación de la comunicación, se presentan estrategias de búsqueda para optimizar el empleo de la web y se comentan las pexperiencias del Portal de bases de datos Red de información y documentación en Comunicación y Cultural (RECOM) y las Salas Virtuales de Investigación, como fuentes de consulta dirigidas al ámbito comunicacional.
Abstract: Digital Documentation and Cyberjournalism
This paper analyzes electronic resources' value as tools for research in the communication studies field. The article shows search techniques that improve the academic use of the World Wide Web. It also features two specific examples: The Data Base in Communication and Culture (RECOM) and the Virtual Research Rooms specialized on Venezuelan journalism. These both multimedia resources have been developed and put on line by Andrés Bello Catholic University's Communication Research Center.
Résumé. Documentatio digitale et cyberjournalisme
La valeur des sources électroniques dans le champ de la recherche en communication est analysée dans cet article. On y présente les principales stratégies de recherche actuelle a fin d'optimiser l'emploi d'internet comme source d'information. Les expériences du Portail de Base des Données d'Information et de Documentation en Communication et Culture (Recom) et des Salles Virtuelles de Recherche mises en ligne par le Centre de Recherche en Communication de l'Université Catholique Andrés Bello permettent d'illustrer les propositions de l'article.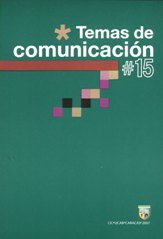 Cómo citar
Calderín, M., & Rojano, M. (1). La documentación digital y el ciberperiodismo(Mabel Calderín y Miladys Rojano). Temas De Comunicación, (15), 47-74. Recuperado a partir de https://revistasenlinea.saber.ucab.edu.ve/index.php/temas/article/view/315
Sección
Artí­culos - Dossier Central