El modelo "liberal capturado" de sistemas mediáticos, periodismo y comunicación en América Latina
Palabras clave:
Sistemas mediáticos, América Latina, Concentración mediática, Modelo liberal capturado.
Resumen
Resumen
Este artículo sienta las bases de lo que llamaremos "modelo liberal capturado", un concepto teórico que ayuda a explicar que la falta de efectividad en la aplicación de las normas, el ejercicio pragmático del poder, la configuración de alianzas de conveniencia y la complicidad entre las clases mediáticas y las políticas explican en conjunto el tipo de desarrollo y la concentración mediática en la región. El modelo sirve para explicar las dos tendencias en la región: por un lado la intensificación del poder corporativo de los medios y por otro, el reposicionamiento de los Estados Nacionales –y del poder ejecutivo en específico– en la definición de políticas de comunicación en abierto antagonismo con los medios privados, pero no necesariamente en defensa del interés público. Habría dos aspectos clave que se discuten en cada uno de los casos presentados para explicar la captura: a) "el grado de (in)eficiencia regulatoria" y b) el (limitado) papel de vigilante de los medios.
Palabras clave: Sistemas mediáticos; América Latina; Concentración mediática; Modelo liberal capturado.
Abstract
This article provides the theoretical explanatory framework what the authors call 'the co-opted liberal model'. This is a theoretical concept that helps explain the lack of effectiveness in the implementation of norms relating to the pragmatic exercise of power. The concept refers to the configuration of alliances of cohabitation and collusion between the media and the political elites as an explanation for the degree of media ownership concentration in Latin America. The concept argues two main trends in the region: on the one hand, the increasing power of media corporation; on the other, the strengthening of the state's role in defining communication policy in antagonistic terms to the private sector but not necessarily in favour of the civil society. The article discusses in each case the key aspects of the co-option; a) the degree of regulatory (in) efficiency; and, b) the (limited) role of media watchdog.
Key words: Media systems; Latin America; Media ownership concentration; Co-opted liberal model.
Résumé
Dans cet article on pose les jalons de ce que nous appellerons "le modèle libéral capturé", un concept théorique qui aide à expliquer comment le manque d'effectivité dans l'application des normes, l'exercice pragmatique du pouvoir, la configuration d'alliances de convenance et la complicité entre les classes médiatiques et politiques expliquent le type de développement et la concentration médiatique dans la région.  Le modèle sert à expliquer les deux tendances existantes  dans la région: d'un côté le renforcement du pouvoir corporatif des médias et de l'autre, le repositionnement des États nationaux - et particulièrement du pouvoir exécutif - dans la définition des politiques de communication ouvertement opposé aux médias privés, mais pas nécessairement pour la défense de l'intérêt public. Il y aurait deux aspects clefs à discuter dans chaque pour expliquer la capture : a) "le degré d' (in) efficacité régulatrice" et b) le rôle de vigilance (limité) des médias.
Mots clé: Systèmes médiatiques; Amérique latine; Concentration médiatique; Modèle libéral capture.
Citas
Alves, R. C. (2005). From lapdog to watchdog: The role of the press in Latin America's democratization. In H. de Burgh (Ed.) Making journalists: Diverse models, global issues (pp.181–201). London: Routledge.
AMIC. (2014, June 23). Los medios públicos en la reforma constitucional y la iniciativa de ley: Postura de la Asociación Mexicana de Investigadores de la Comunicación (AMIC). Press release. Retrieved from http://www.amicmexico.org/portal_amic/descargas/amic_medios_publicos30614.pdf.
Alfaro Moreno, R. M. (2006). Citizens and media cultures: Hidden behind democratic formality. Global Media and Communication, 2(3), 299-313.
Arroyave, J. e I. Blanco (2010) Cómo perciben los periodistas su profesión: entre el agotamiento y la fascinación, Investigación y Desarrollo 13 (2): 364-389
Baldivia Urdinea, J., M. Planet, J. Solís Riva and T. Guerra (1981) La formación de los periodistas en América Latina: México, Costa Rica y Chile. México: Nueva Imagen.
Bastenier, M. A. (2009). ¿Cómo se hace un periódico? El chip colonial y los diarios en América Latina. México: FCE/FNPI.
Beltrán, L. R (1970, November). Apuntes para un diagnóstico de la incomunicación social en América Latina: La persuasión a favor del status quo. Paper presented for the Seminar on Communication and Development, CIESPAL/Fundación Friedrich Ebert/CEDAL, La Catalina, Costa Rica.
Beltrán, L. R. (1976) Políticas Nacionales de Comunicación en América Latina, San José: Nueva Sociedad
Beltrán, L. R. (1980) Comunicación dominada: Estados Unidos en los medios de América Latina, México: Nueva Imagen
Begovic, B. (2005, March). Corruption, lobbying and state capture. Center for Liberal-Democratic Studies (CLDS) and School of Law, University of Belgrade. Retrieved from http://danica.popovic.ekof.bg.ac.yu/106.pdf.
Bonilla Sebá, E. & González, J. I. (2010, April 12). La decisión de la CNTV no garantiza el derecho a la información. Eje 21, 12 April. Retrieved from http://bit.ly/1cXGXNv.
Bresnahan, R. (2003). The media and the neoliberal transition in Chile: Democratic promise unfulfilled, Latin American Perspectives, 30(6), 39-68.
Christians, C. G., Glasser, T. L., McQuail, D., Nordenstreng, K. & White, R. A. (2009). Normative theories of the media: Journalism in democratic societies. Urbana, IL: University of Illinois Press.
Curran, J. (2002) Media and power. London: Routledge.
Curran, J. (2005). What democracy requires of the media. In G. Overholser & K. Hall Jamieson (Eds.) The press (pp. 120–140). New York: Oxford University Press.
Eisenstadt, S. & Roniger, L. (1984). Patrons, clients and friends: Impersonal relations and the structure of trust in society. Cambridge: Cambridge University Press.
Espino, G. (2009) República del escándalo: política espectáculo, campaña negativa y escándalo mediático en las presidenciales mexicanas. México: Ed Fontamara/UAQ/IEQ
Fox, E. (Ed.). (1988). Media and politics in Latin America: The struggle for democracy. London: Sage.
Fox, E. (1997). Latin American broadcasting: From tango to telenovela. Luton: University of Luton Press.
Fox, E. & Schmucler, H. (Eds.). (1982). Comunicación y democracia en América Latina. Lima: Desco/CLACSO.
Fox, E. & Waisbord, S. (Eds.). (2002). Latin politics, global media. Austin: University of Texas Press.
Furtado, C. (1984). Cultura e desenvolvimento em época de crise. São Paulo: Paz e Terra.
García Canclini, N. (2000). Industrias culturales y globalización: Procesos de desarrollo e integración en América Latina. Estudios Internacionales, 33(129), 90-111.
García Canclini, N. & Piedras, E. (2005). Las industrias culturales y el desarrollo de México. Mexico City: Siglo XXI Editores.
Garnham, N. (1992). The media and the public sphere., In C. Calhoun (Ed.) Habermas and the public sphere (pp. 359–376). Cambridge, MA: MIT Press.
Guerrero, M. A. (2010). Broadcasting and democracy in Mexico: From corporatist subordination to state capture. Policy and Society, 29(1), 23-35.
Guerrero, M. A. y M. Márquez-Ramírez (2014) Media Systems and Communication Policies in Latin America, Nueva York y Londres: Palgrave Macmillan
Hallin, D. & Mancini, P. (2004). Comparing media systems: Three models of media and politics. New York: Cambridge University Press.
Hallin, D. & Papathanassopoulos, S. (2002). Political clientelism and the media: Southern Europe and Latin America in comparative perspective. Media, Culture and Society, 24(2), 175–195.
Hellman, J. (1998). Winners take all: The politics of partial reform in post-communist transitions. World Politics, 50(2), 203–234.
Herman, E. & McChesney, R. (1997). Global media: The new missionaries of corporate capitalism. New York: Continnum.
Hughes, S. (2003) 'From the inside out: how institutional entrepreneurs transformed Mexican journalism', International Journal of Press/Politics 8(3): 87-117.
Hughes, S. (2006). Newsrooms in conflict: Journalism and the democratization of Mexico. Pittsburgh: University of Pittsburg Press.
Hughes, S. and Lawson, C. (2005). The barriers to media opening in Latin America. Political Communication, 22(1), 9–25.
Juárez Gámiz, J. V. (2009) 'Informar o persuadir: la centralidad del contenido mediático en la nueva ley electoral', in J. M. Ackerman (coord.) Nuevos escenarios del derecho electoral: los retos de la reforma de 2007-2008. México, DF: UNAM, pp. 149
Laffont, J. and Tirole, J. (1991). The politics of government decision-making: A theory of regulatory capture. Quarterly Journal of Economics, 106, 1089-1127.
Lara Klahr, M. (2005) Diarismo: cultura e industria del periodismo impreso en México y el mundo. México: Editorial E.
Lawson, C. (2002). Building the fourth state: Democratization and the rise of a free press in Mexico. Berkeley, CA: University of California Press.
Lichfield, G. (2000). La declarocracia en la prensa. Letras Libres, 19. Retrieved from http://www.letraslibres.com/revista/convivio/la-declarocracia-en-la-prensa?page=0,1.
Lugo-Ocando, J. (Ed.). (2008). The media in Latin America. Maidenhead: Open University Press.
Malloy, J. & Seligson, M. (1987). Authoritarians and democrats: Regime transitions in Latin America. Pittsburgh: University of Pittsburgh Press.
Marques de Melo, J. (Ed.). (1989). Comunicaçao na America Latina: Desenvolvimento e crise. São Paulo: Papirus.
Márquez-Ramírez, M. (2012b). Valores normativos y prácticas de reporteo en tensión: Percepciones profesionales de periodistas en México. Cuadernos de Información, 30, 97–110.
Mastrini, G. & Bolaño, C. (2000). Globalización y monopolios en la comunicación en América Latina. Buenos Aires: Biblos.
Mastrini, G., Bizberge, A., & De Charras, D. (Eds.). (2013). Las políticas de comunicación en el Siglo XXI. Buenos Aires: La Crujía.
Matos, C. (2008). Journalism and political democracy in Brazil. Lanham, MD: Lexington Books.
Matos, C. (2012). Media and politics in Latin America. London: I.B. Tauris.
Mattelart, A., Piccini, M. & Mattelart, M. (1976). Los medios de comunicación de masas: La ideología de la prensa liberal. Buenos Aires: Schapire/El Cid.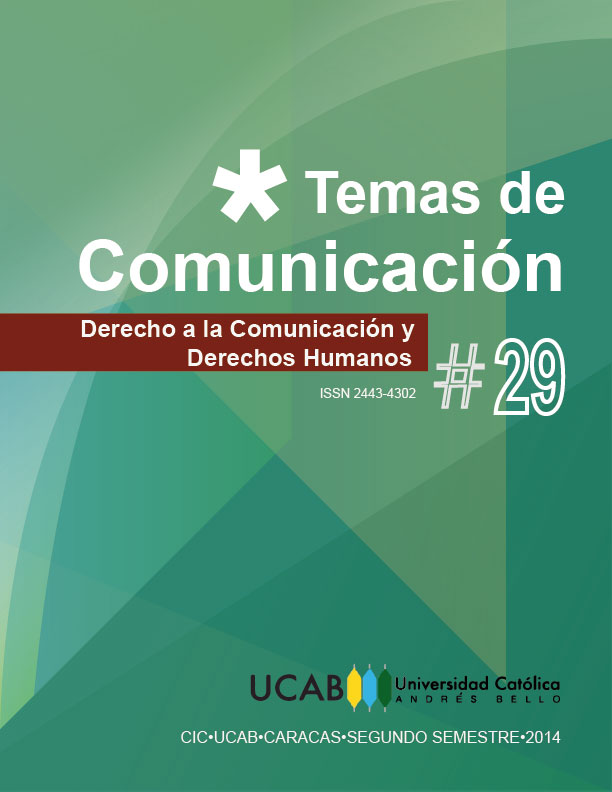 Descargas
Cómo citar
Guerrero, M. A., & Márquez Ramírez, M. (2015). El modelo "liberal capturado" de sistemas mediáticos, periodismo y comunicación en América Latina. Temas De Comunicación, (29). Recuperado a partir de https://revistasenlinea.saber.ucab.edu.ve/index.php/temas/article/view/2242
Sección
Artí­culos - Dossier Central