¿El tal paro agrario nacional no existe? Análisis del cubrimiento mediático y las rutinas de comunicación política en las movilizaciones campesinas en Colombia
Resumen
Resumen
Este artículo expone los resultados de una investigación que buscó analizar el cubrimiento mediático del Paro Nacional Agrario que se desarrolló en el mes de Agosto de 2013 en Colombia. Se propone una reflexión en torno a la importancia, en el marco de la sociedad de la información, de la lucha por la construcción de sentido de la realidad y, cómo a pesar de los desbalances de poder los actores sociales pueden influir a través de distintas estrategias políticas y su capacidad tecnológica a romper los desequilibrios tradicionales de las estructuras permanentes de poder y así afectar las agendas mediáticas.
Palabras Claves: Comunicación; Movilización social; Estrategia; Tecnología; Poder.
Abstract
This article reflects research work undertaken in relation to the national agrarian strike that took place in Colombia in 2013. It looks at the role of the network society in reshaping the news agenda by providing tools which are used by the different social actors to construct alternative social realities despite the existing and unbalanced structures of power.
Key words: Communication; Social mobilisation; Strategies; Technologies; Power.
Résumé
Cet article montre les résultats d'une recherche dont le but a été d'analyser la façon dont les médias ont couvert la grève des travailleurs du secteur agricole en Colombie (août 2013). Une discussion autour de l'importance de la lutte pour la construction d'un sens de la réalité dans le contexte de la société de l'information y est proposée. À cette question s'intègre une réflexion supplémentaire sur les formes dont les acteurs sociaux, malgré leur  position de subordination dans l'ordre sociopolitique, peuvent influencer les déséquilibres des structures traditionnelles de pouvoir et orienter les agendas médiatiques au moyen de stratégies politiques et de l'accès à des technologies spécifiques.
Mots clés: Communication; Mouvements sociaux; Stratégies; Technologies; Pouvoir.
Citas
Benford, R., y Snow, D. (2000). Framing processes and social movements: an overview and assessment. Annual Review of Sociology, vol. 26, pp. 611-639.
Bushnell, D. (1996). Colombia: Una nacion a pesar de si misma. Bogotá: Planeta.
Gamson, W. (1992). Talking politics. Cambridge: Cambridge University Press.
Gitiln, T. (1980). The whole world is watching: Mass media in the making and unmaking of the new left. Berkeley: UCLA.
Goffman, E. (1974). Frame analysis: an essay on the organization of experience. USA: Harper & Row.
Jaramillo, R. (1998). Colombia: la modernidad postergada. Bogotá: Ediciones Argumentos.
Palacios, M., y Safford, F. (2002). Colombia: Pais fragmentado, sociedad dividida. Bogotá: Norma.
Reese, S., Gandy, O., y Grant, A. (2001). Framing public life: perspectives on media and our understanding of the social world. Londres: Taylor & Francis.
Thompson, J. (2013). Media and modernity: A theory of social media. USA: John Wiley & Sons.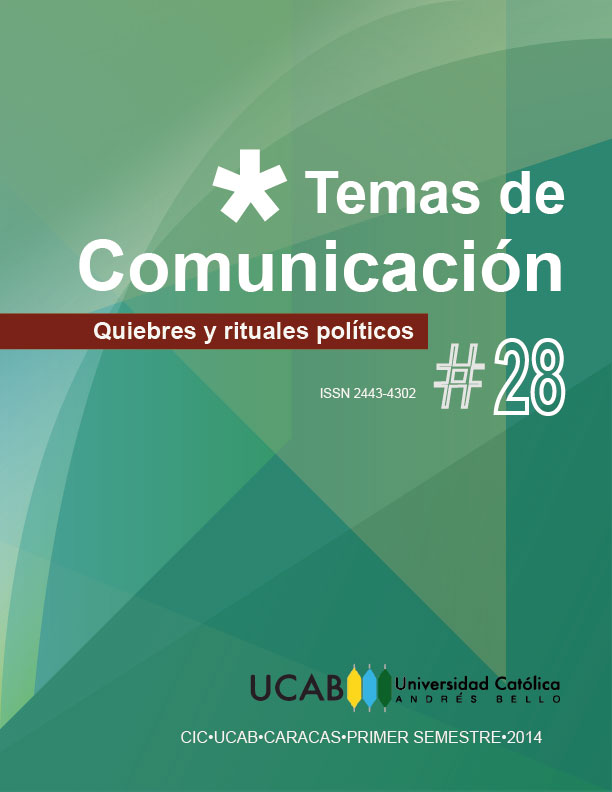 Cómo citar
Cárdenas Ruiz, J. D. (2014). ¿El tal paro agrario nacional no existe? Análisis del cubrimiento mediático y las rutinas de comunicación política en las movilizaciones campesinas en Colombia. Temas De Comunicación, (28). Recuperado a partir de https://revistasenlinea.saber.ucab.edu.ve/index.php/temas/article/view/2150
Sección
Artí­culos - Dossier Central