Aproximación a los cambios que demanda el escenario comunicacional venezolano (Orlando Villalobos Finol)
Palabras clave:
Comunicación, periodismo, democracia, comunidad
Resumen
El trabajo propone una exploración del ejercicio comunicacional y periodístico venezolano. Se pondera el peso que el mundo mediático tiene en la conformación de la trama simbólica, que influye en la creación de la subjetividad y el imaginario colectivo. Se hace un registro de los nudos conflictivos que se exprasan en el terreno comunicacional. Se evalúa críticamente la actuación de los medios públicos, privados y comunitarios. Finalmente, se hace una aproximación que favorece la constitución de una ecología informativa y comunicacional, propiciadora de prácticas democráticas, cultura de paz, equidad y creación de ciudadanía.
Abstract.
This paper explores the communication and journalistic practices in Venezuela. The work assesses the importance of the media in the conformation of the symbolic narrative. It highlights the key conflict issues that are revealed in the communicational domain. The article critically assesses the role of the public, private and community media. Finally, the article suggests an approach that favors information ecology, which would permit democratic practices, a peace culture, equity and the cration of citizenship culture among people.
Résumé.
Dans cet article on propose una révision de l'exercise des professions de la communication et du journalisme au Venezuela pour pondérer l'influence des médias dans la configuration de la trame symbolique et dans la formation de la subjectivité et de l'imaginaire collectif. On évalue de façon critique l'action des médias publics, privés et communautaires. On propose enfin la constituion d'une écologie de l'information et de la communication qui stimule les pratiques démocratiques, la culture de la paix et de l'équité et la formation citoyenne.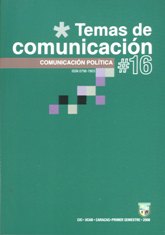 Cómo citar
Villalobos Finol, O. (1). Aproximación a los cambios que demanda el escenario comunicacional venezolano (Orlando Villalobos Finol). Temas De Comunicación, (16), 71-88. Recuperado a partir de https://revistasenlinea.saber.ucab.edu.ve/index.php/temas/article/view/337
Sección
Artí­culos - Dossier Central