Medios y partidos en América Latina: una aproximación más allá de la obsesión por el gasto electoral (Steven Griner y César Arias)
Steven Griner

César Arias
Resumen
La contratación de espacios de televisión, radio y encuestas representa entre el 60 y 80 por ciento de los gastos totales de las campañas en América Latina. 15 de los 17 países de la región han implementado regulaciones para controlar la influencia del dinero en la política. Este documento sostiene que en vez de continuar con la obsesión de hacer la política más barata por mandato legislativo, la experiencia regional demuestra que es a través del diálogo permanente y el control mutuo entre autoridades electorales, partidos políticos, consesionarios de medios y la sociedad civil, que se logra el funcionamiento efectivo de los dispositivos de control, formales e informales.
Abstract
Buying air time in broadcasting media outlets plus the hiring of surveys and polling services represents nowadays between 60 and 80 percent of the overall electoral campaign expenditure in Latin America. Hence, 15 and 17 countries in the region have implemented regulation to limit the influence of money in politics. This article argues that rather than promoting legislative efforts which effectively only male politics 'cheaper', we should look at past experiences in the region. These tend to point towards permanent dialog and concerted regulation between electoral authorities, political parties, media and civil society, in order to establish affective formal and informal mechanism of control.
Resumé
En Amerique Latine, les dépenses concernant l'achat d'espaces médiatiques et la réalisation de sondages représente entre 60 et 80% des budgets des campagnes électorales. Dans 15 des 17 pays de la région, des dispositifs de régulation ont été mis en place pour contrôler l'influence de l'argent dans le monde politique par voie législative. Dans ce travail on affirme qu'au lieu de persister à vouloir maîtriser les financements de la politique par voie législative, l'experience régionale a démontré que le succès d'autres despositifs régulatoires repose essentiellement sur des mécanisme de surveillance réciproque entre les autorités électorales, les partis politiques, les opérateurs médiatiques et la societé civile.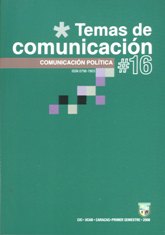 Cómo citar
Griner, S., & Arias, C. (1). Medios y partidos en América Latina: una aproximación más allá de la obsesión por el gasto electoral (Steven Griner y César Arias). Temas De Comunicación, (16), 13-36. Recuperado a partir de https://revistasenlinea.saber.ucab.edu.ve/index.php/temas/article/view/333
Sección
Artí­culos - Dossier Central