Televisión comunitaria en Venezuela: una mirada en perspectiva (Oscar Lloreda)
Palabras clave:
medios de comunicación social, televisión, televisión comunitaria, marco jurídico de las comunicaciones
Resumen
La televisión comunitaria en Venezuela es una combinación entre las demandas de representación mediática de numerosos grupos sociales -tradicionalmente exluidos de la televisión comercial privada- y los cambios jurídicos introducidos en el país desde 1999. En este artículo se repasan las motivaciones sociales de la televisión comunitaria, se describen a grandes rasgos las figuras jurídicas que la hacen posible, se revisan sus formalidades y su estructura, se enumeran las nuevas empresas y se comenta su actividad. Se concluye que si bien el fomento del Estado a la televisión comunitaria es necesario para el arranque de sus actividades, éste puede instituir una lógica de dependencia tecnológica y económica que acabaría por amenazar su independencia.
Abstract: Communitarian Television in Venezuela: A View in Perspective
Community Television in Venezuela is the result of the necessity of media representation of large social groups (traditionally exclude from the private commercial networks) and the legal changes introduced in the country since 1999. In this paper social motivations of Community are underlined. It also conveys an approach about its legal framework, formalities, and structure. Brand new Community Television enterprises are numbered and its activities summarized. The conclusion is that although official fostering to these initiatives is necessary for their starting, it may trigger off a system of technological and economic dependence that would be a threat to heir independence.
Résumé: La Télévision communautaire au Venezuela: un regard en perspective
La télévision communautaire au Venezuela est une combinaison entre les demandes de représentation médiatique de nombreux groupes sociaux -exclus traditionnellement de la télévision commerciale privée - et les changements juridiques introduits dans le pays dès 1999. Cet article présente les motivation sociales de la télévision communautaire, décrit à sommairement les figures juridiques qui la soutiennent, révise ses formalités et sa structure, énumère les entreprises nouvellement créées et propose une explication descriptive de leurs champs d'action. La conclusion attire l'attention sur le fait que le soutien de l'État, indispensable à la mise en place de la télévision communautaire, peut signifier une logique de dépendance technique et économique qui constitue una véritable menace à son indépendance.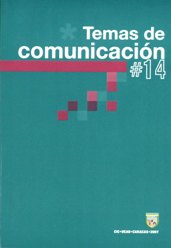 Cómo citar
Lloreda, O. (1). Televisión comunitaria en Venezuela: una mirada en perspectiva (Oscar Lloreda). Temas De Comunicación, (14), 125-142. Recuperado a partir de https://revistasenlinea.saber.ucab.edu.ve/index.php/temas/article/view/300
Sección
Artí­culos - Dossier Central