Análisis del Proceso Comunicacional del Impuesto al Valor Agregado (IVA)
Resumen
Estudio presentado como tesis de grado en el que se realiza un análisis del proceso comunicacional puesto en marcha por el Estado venezolano, Ministerio de Hacienda específicamente, para la implantación del Impuesto al Valor Agregado, teniendo como eje la reforma tributaria, y un particular interés en determinar el contexto dentro del cual se producjo. Una recopilación sistemática de datos estadísiticos referidos a la prensa venezolana, y el análisis de manifestaciones tangibles e intencionales del emisor -avisos pagados por la prensa ofrecen un diagnósitco de los manejos comunicacionales por parte del Estado.
Abstract
A study presented as a Bachelor's Degree disertation analyses the communications process utilized bye the venezuelan government; more specifically the internal Revenue Service in the implementation of the Value Added Tax. This analysis is taken within the context of the ongoing tax reform process in Venezuela with a particular interest in determining the context within wich it ocurred. A systematic gathering of stadistical data in the form of press releases, and an analysis of paid advertisements bared by the internal Revenue Service, alloved for a diagnostic analysis of the communications process utilized by the Goverment.
Résumé
Résumé d'un mémoire de licence, ce travail analyse la politique de communication mise en place par l'Etat par le biais du ministère de l'économie pour l'adoption de l'Impôt à la Valeur Ajoutée IVA. Cette analyse se situe dans le contexte de la réforme tributaire en cours au Véneézuéla. Une compilation systématique des informations de presse et des textes émis par le ministère permettent un diagnostic des stratègies de communication de l'état Vénézuélien.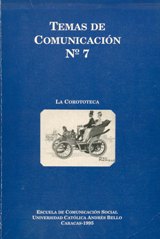 Cómo citar
González, L. M. (2011). Análisis del Proceso Comunicacional del Impuesto al Valor Agregado (IVA). Temas De Comunicación, (7), 85-104. Recuperado a partir de https://revistasenlinea.saber.ucab.edu.ve/index.php/temas/article/view/161
Sección
Artículos - Periodismo