Responsabilidad Social Empresarial y Comunicación: relación para la transformación social
Palabras clave:
Palabras clave, Responsabilidad Social, Comunicación, Organización. Key words, Corporate Social Responsability, Communication, Organisation. Mots clés, Responsabilité sociale des entreprises. Communication. Organisation.
Resumen
Resumen
La Responsabilidad Social Empresarial, RSE, es un término que abarca el diálogo interdisciplinario y reviste una dualidad táctica-estratégica para las organizaciones y los sujetos involucrados. Desde una perspectiva sistémica y orgánica, es una tendencia en los negocios y un modelo emergente en la administración empresarial para integrar lo económico con lo social, lo ético y ambiental. Allí, la comunicación es el vehículo y la plataforma instrumental para agenciar los procesos de transformación social implícitos en la RSE. La relación entre comunicación y RSE es un factor facilitador para tal autopoiesis organizacional.
Abstract
Corporate Social Responsibility (CSR) is a concept that encompasses interdisciplinary dialogue and that includes a techno-strategic duality for the organisation and subjects involved. From a systematic and organic perspective, it is a tendency among businesses and at the same time a emerging administrative model that integrates the economic, the social, the ethical and environmental into a single process. In it, communication is the vehicle and instrumental platform to manage the transformation elements that are implicit in CSR. The relation between communication and RSE is a facilitating factor for the autopoiesis within companies.
Résumé
Le terme de responsabilité sociale d'entreprise, RSE, englobe la notion de dialogue interdisciplinaire, et implique une dualité tactique et stratégique pour les organisations et ses intervenants. Dans une perspective systémique et organique, elle constitue une tendance dans le monde des affaires, mais aussi un modèle émergent en gestion d'entreprise visant à intégrer la dimension sociale à l'aspect économique, éthique et environnemental. La communication est alors le véhicule et la plate-forme instrumentale pour organiser le processus de transformation sociale implicite dans le RSE. La relation entre la communication et la RSE est un facteur de facilitation pour cette autopoïèse organisationnelle.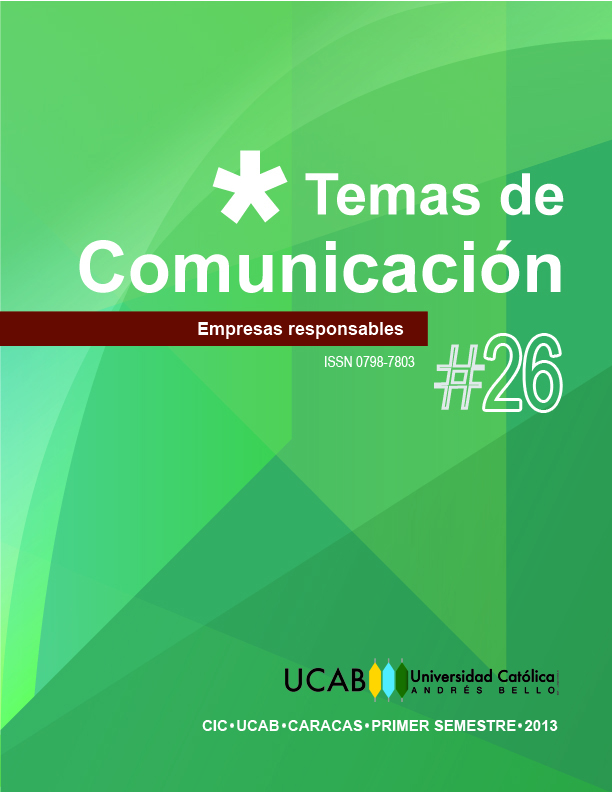 Cómo citar
Zambrano, X. (1). Responsabilidad Social Empresarial y Comunicación: relación para la transformación social. Temas De Comunicación, (26). Recuperado a partir de https://revistasenlinea.saber.ucab.edu.ve/index.php/temas/article/view/1254
Sección
Artí­culos - Dossier Central