Veinticinco años del Informe Mac Bride. Releyendo el gran inventario de la comunicación. (Andrés Cañizalez)
Palabras clave:
comunicación, desarrollo, nuevo orden mundial de la información y e la comunicación, informe MacBride
Resumen
A un cuarto de siglo de la publicación del informe MacBride (conocido bajo el título "Un solo mundo voces múltiples"=, se propone aquí su revisión, especialmente de su apartado de recomendaciones. En este artículo se discute también la intersección entre comunicación y desarrollo así como la agenda de investigación surgerida por este informe
Abstract: 25 years of the MacBride Report: A Review
A quarter of a century has elapsed after the publishing of the MaBride Report (Many voices, One World). This important document is reviewed in the paper, focusing on its recommendation section. The paper revises the intersection between communication and development as well as the research agenda proposed by the report.
Résumé: Vingt-cing ans du Rapport MacBride: Relecture du grand inventaire de la communication
On propose ici une révision du Rapport MacBride (connu sous le titre Voix multiples, un seul monde), tout particulièremnt de sa partie de recommandations. Dans cette révision on met 'accent sur l'intersection entre communication et développment et sur l'agenda de recherche que ce Rapport suggère.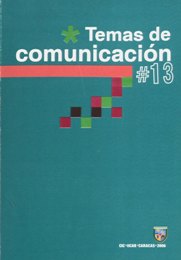 Cómo citar
Cañizalez, A. (1). Veinticinco años del Informe Mac Bride. Releyendo el gran inventario de la comunicación. (Andrés Cañizalez). Temas De Comunicación, (13), 15-26. Recuperado a partir de https://revistasenlinea.saber.ucab.edu.ve/index.php/temas/article/view/272
Sección
Artí­culos - Dossier Central