AMOR Y MUJER: ESPONSALES Y DOTES JUDÍAS EN EL CORO DEL SIGLO XIX
Resumen
Resumen:
El texto aborda el tema del amor y la mujer sefardita coriana en medio del cambio cultural que vivió este grupo de migrantes y la transición hacia el amor romántico. Un conjunto de documentos clave: dos escrituras esponsalicias y cinco cartas dotales, fueron analizados, siendo la totalidad de documentos prematrimoniales ubicados para la comunidad judía sefardí en el archivo coriano. El recorrido documental permite ejemplificar tres expresiones de la idea moderna del amor. La imagen de una mujer judía cerrada en su grupo se pierde para dar paso a otra que coincide con la criolla, al ser arropadas por los valores sobre el amor comunes al mundo occidental. Pese a estos hallazgos de interés para las primeras cinco décadas de la migración, los documentos sólo permiten afirmar que el amor romántico fue excepcional entre las judías corianas.
Palabras clave: Venezuela Siglo XIX, Coro, comunidad femenina sefardí, transgresión, amor romántico.
Abstract:
This paper deals with how Sephardic women in Coro, Venezuela, related to the transition toward the ideal of romantic love in the midst of cultural changes this immigrant group was undergoing. The study is based on the analysis of a number of key pre-nuptial documents of the Sephardic community found in the Coro archive: two betrothal and five dowry contracts. These documents exemplify three manifestations of the modern idea of love. The image of the Jewish woman shut in by her group is lost, giving way to one that coincides with the image of local women; both are caught up in the love values then in vogue in the Western world. In spite of the findings in these documents that hark back to the first five decades of Sephardic immigration to Coro, they only allow us to assert that romantic love was the exception rather than the rule among Coro's Jewish women.
Keywords: 19th century Venezuela, Coro, Sephardic feminine community, transgression, romantic love, Sephardim.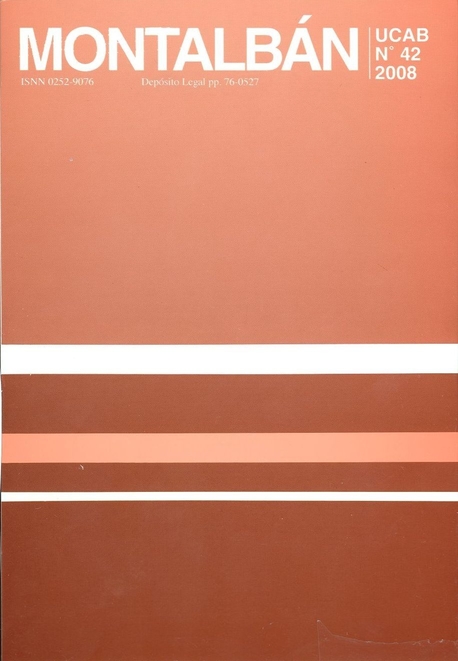 Descargas
Cómo citar
De Lima, B., & Aizenberg, I. (2018). AMOR Y MUJER: ESPONSALES Y DOTES JUDÍAS EN EL CORO DEL SIGLO XIX. Revista Montalbán, 1(42). Recuperado a partir de https://revistasenlinea.saber.ucab.edu.ve/index.php/revistamontalban/article/view/3597